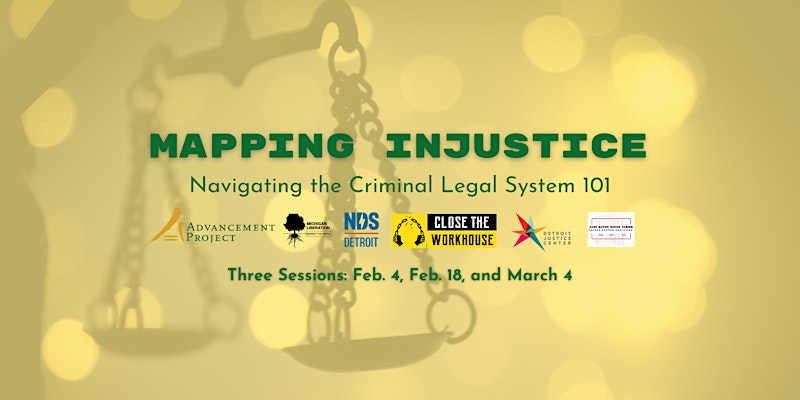 Advancement Project National Office and organizing partners around the United States present a forum series designed to provide a summary of the various phases of a criminal case form arrest to re-entry. We will provide resources and insights to support those looking to learn more about the criminal legal system, along with a roadmap that will assist people as they confront various obstacles including:
Information to effectively distinguish between state and federal law enforcement agencies in an effort to understand and diminish the reach of their powers;
Mapping stakeholders across the legal system, including judges, prosecutors, sheriffs, and others;
Questions to ask your lawyer (court-appointed or private) or the lawyer of a loved one;
Potential collateral consequences resulting from a criminal case, including housing, immigration, and employment issues;
Community-designed strategies for fighting against oppressive bail practices and demanding accountability from elected officials;
Support resources to meaningfully advocate for individuals impacted by incarceration
Our goal is to arm community partners with tools to fight against these discriminatory systems, while we simultaneously work to dismantle them by learning from grassroots organizing groups focused on tackling these issues.
All sessions will be streamed on Facebook Live and YouTube.
Session One: Thursday, February 4, 2021 – 7-8:30p EST

Policing, Arrest, and Pretrial

Session Two: Thursday, February 18, 2021 – 7-8:30p EST

Trial, Sentencing, and Plea Negotiations

Session Three: Thursday, March 4, 2021 – 7-8:30p EST

Incarceration and Re-Entry
Speakers Include:
Inez Bordeaux, Organizer – Close the Workhouse Campaign
Anthony Boyd, Organizer + Participatory Defense Hub Leader – Michigan Liberation
Chris Bufford, Campaign Strategist – Advancement Project National Office
Ashley Carter, Deputy Director, Justice Project – Advancement Project National Office
Erin Keith, Staff Attorney – Detroit Justice Center
Linda Franks and Rev. Alexis Anderson, Organizers + Community Advocates – East Baton Rouge Parish Prison Reform Coalition
Chantá Parker, Managing Director – Neighborhood Defender Service Detroit